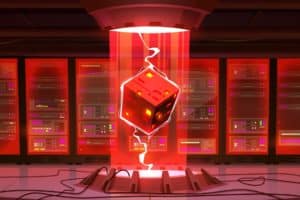 Bitmain, a leader in Bitcoin mining technology, is preparing to usher in a new era with the unveiling of specialized mining facilities for the Aleo blockchain. 
This strategic move underscores Bitmain's commitment to innovation and diversification in the cryptocurrency mining industry.
Crypto company Bitmain unveils mining rigs for Aleo blockchain
Bitmain, the pioneering Chinese maker of Bitcoin mining platforms, has set its sights on a new horizon, revealing plans to launch mining rigs tailored for the Aleo blockchain. 
The company, synonymous with innovation in cryptocurrency mining, made this announcement on WeChat, opting for an "Antminer" model designed specifically for Aleo's unique proof-of-work blockchain.
Aleo, positioned as a Level 1 blockchain, intends to redefine privacy in the cryptocurrency landscape by leveraging zero-knowledge proofs. 
As a testament to Aleo's ambition, the project secured substantial financial backing in its Series B funding round, raising an impressive $200 million. 
This round was co-managed by such prominent entities as SoftBank Vision Fund 2 and Kora Management. Notably, the participation of industry giants such as Tiger Global, Andreessen Horowitz (a16z), Samsung Next, Slow Ventures, and Sea Capital strengthens Aleo's presence in the blockchain ecosystem.
Despite this major announcement, Bitmain has maintained confidentiality about the timing of the launch of these Aleo-focused mining rigs.
This deliberate ambiguity leaves the cryptocurrency community in eager anticipation, ready for another innovative step by the industry giant.
Rumors circulated about Bitmain's liquidity. 
Bitmain's pursuit of Aleo integration comes at a time when the company has come under the spotlight because of an internal decision to delay staff payments for the month of September. 
Reports of cash flow problems have been circulating, but Bitmain quickly resolved the situation by refunding outstanding salaries, as reported by noted crypto journalist Colin Wu. 
This incident underscores the complexities and challenges inherent in cryptocurrency mining.
At the same time, Bitmain has demonstrated its prowess in other dimensions of the cryptocurrency mining landscape. In September, the company unveiled its latest wonder, the Antminer S21. 
This launch has generated considerable interest among miners, with prominent entities such as CleanSpark, a Nasdaq-listed U.S. Bitcoin miner, already pledging to purchase 4.4 exahashes per second of S21 mining rigs.
Moreover, Bitmain's strategic vision goes beyond its product offerings. The company revealed plans to invest as much as $54 million in the acquisition of Core Scientific, a Bitcoin mining company that had previously risked bankruptcy. 
This move exemplifies Bitmain's commitment to diversify its presence in the cryptocurrency mining industry.
Bitmain's core expertise lies in the design and manufacture of application-specific integrated circuit chips (ASICs) for Bitcoin mining. 
It operates Antpool, one of the largest cryptocurrency mining pools worldwide, reaffirming its position as a significant player in the cryptocurrency mining ecosystem.
Conclusions
As Bitmain charts its course toward Aleo, its foray into Aleo-focused mining rigs indicates a broader trend in the blockchain industry. Specialized hardware tailored for unique blockchains exemplifies the continued evolution of the industry, driven by the quest for greater efficiency and security. 
Although Bitmain has not yet disclosed launch timelines, it is undeniable that this move promises to once again reshape the cryptocurrency mining landscape.
The cryptocurrency community looks forward to this new chapter in Bitmain's journey and the transformative impact it could have on Aleo and the broader blockchain ecosystem.