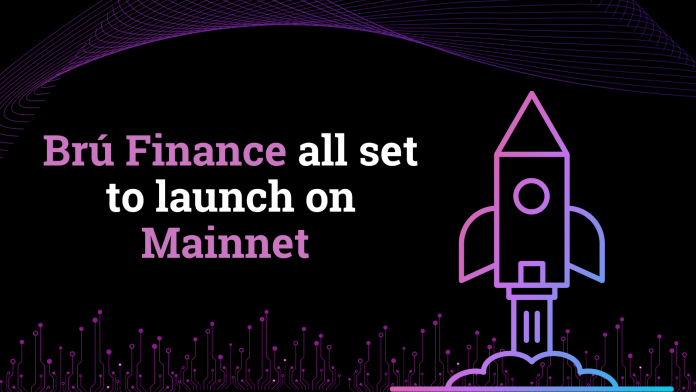 Brú Finance is creating a new paradigm of DeFi 2.5, bringing emerging market asset-backed bonds to decentralized finance. Globally the largest issuer of tokenized real-world assets (RWA), Brú Finance connects decentralized lending to the real economy, serving the un/underbanked population of 1.70 billion in the global south.
Brú Finance is globally one of the first blockchain fintech organizations that has brought farmers (as borrowers), physical warehouses (as asset custodians), and centralized banks (as lenders) on a single blockchain platform. More than 18,000 farmers have tokenized their agri-commodities and obtained loans on Brú Finance Blockchain platform.
But centralized lending has limitations due to the bureaucratic system and long approval cycles. Moreover, a large section of the population is deprived of the services of financial institutions due to low credit scores. Brú Finance is working to create an open financial ecosystem for the unprivileged section of society.
Brú Finance knows that huge capital is locked in the crypto assets, and it can fuel economic activities if Brú Finance provides an appropriate channel to deploy the capital in emerging markets. It will help un/underbanked population to get working capital by collateralizing real-world assets. And crypto asset holders will get stable yields on their investments.
With this mission in mind, Brú Finance launched Defi 2.5 to connect crypto lending to real-world assets.
Successful Testnet launch
Brú finance achieved a crucial milestone with a successful testnet launch on June 22. Brú Finance have received an overwhelming response and support from the community. A few statistics of testnet launch
Total number of Buy Bonds / Withdraw tests:11,700
Total number of Borrow/Repay tests: 1,800+ dummy RWA NFTs worth over $6Mn
1000+ feedbacks
Five major bug fixes and 7 new developments
Thanks to our technology-savvy, proactive and vibrant community who worked as an extended team during the test-net launch. The community's feedback helped us to improve the code, fix bugs, and refine the product. As a company, Brú Finance acknowledges the community support to prepare us for the mainnet, and with the mainnet launch, Brú Finance will make a major announcement for the community.
Road to Mainnet
Brú Finance is delighted to announce that they will launch the mainnet in the next 45 days. Our technical team is working on completing the smart contract audit, and Brú Finance is on track to closing the audit in the next 30 days. Brú Finance's industry-first Emerging Market Asset-Backed Bonds will open up for global investors after the mainnet launch.
Snapshot of Emerging Market Asset-Backed bonds
Emerging Market Asset-Backed bonds are a new asset class, introduced for the first time by Brú with the objective of helping the crypto investors in reducing high levels of net worth volatility that has so far been the achilles heel of Cryptocurrencies. Currently, these bonds are backed by tokenized agri-commodities. The physical agri-commodities are in the safe custody of custodian warehouses on our decentralized network and are represented on-chain by real-world NFTs. 
These NFTs remain locked in smart contracts, and by extension in custodian warehouses during the tenure of loan, thus ensuring continuous security in favor of the borrower. The agri-commodity price volatility remains low, thus our network protects both the borrower's and lender's interest.
Our Emerging Market Asset-Backed bonds create a unique opportunity for lenders to make a significant social impact while earning stable yields on their investment.
Future of Emerging Market Asset-Backed Bonds
Presently, these bonds are backed by agri-commodities. But, Brú Finance have a roadmap to introduce other real-world commodities such as gold and other precious metals, receivables finance, exotic goods, handicraft items, and more. All these assets will provide a credit line to farmers, small and medium enterprises, women groups, and artisans. The new asset class, "Emerging Market Asset-Backed Bonds," is a bridge between the global north and the global south. These bonds are a most effective opportunity to deploy the surplus capital, locked in crypto, to economic activities and generate stable returns for investors and livelihood opportunities for borrowers.
Inviting Early Adopters of Emerging Market Asset-Backed Bonds
Brú Finance is opening a white list for the early adopters of the bonds. Early adopters will significantly contribute to creating a large-scale social impact in emerging markets. Early adopters will get many additional benefits such as –
Brú Finance token farming incentive
Higher yield on the investment
The community members can become part of the "Early adopter program" by lending a sum as low as USD 1000 to farmers in the world's largest growing market, India. Brú Finance will release more details about the "Early adopter program" in our upcoming blog. Meanwhile, sit tight; Brú Finance is going to make many significant announcements. The road to mainnet is full of action and excitement, which will only be possible with ongoing community support.
For more updates and the latest news about Brú Finance, please join us on:
Twitter | LinkedIn  | Discord | Telegram 
Media Contacts
Company Name:Brú Finance
Contact Person: Ashish Anand
Email: [email protected]