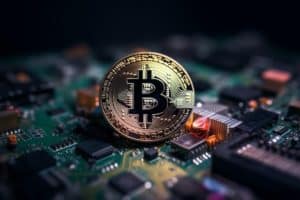 Texas has become the leading US state in Bitcoin mining.
According to recent data published by CNBC, and sourced from Foundry, it would have risen above 28% of the entire hashrate owned by the US. 
Bitcoin mining in the US: Texas in first place 
The US now leads the world in Bitcoin mining since China banned it in 2021. 
Previously in fact most of the hashrate was concentrated in China, but since then the Asian country has dropped to 21%. 
Right now, however, nearly 38% of the hashrate used globally for Bitcoin mining seems to be concentrated in the US. 
Even as of July 2021, there were reportedly no large mining farms in operation, with the country's hashrate plummeting to virtually 0%. At that time, the US rose to 35%, up from 17% two months earlier. 
Since then, the percentage of hashrate located in the US has still risen, to the current 38%. 
Meanwhile, China has caught up, although before the ban it had 44% while now it has slipped to 21%. 
Right now in second place is Kazakhstan, China's neighbor, with 13%, followed by Canada with 6.5% and Russia with 4.5%. 
Texas' record in Bitcoin mining
However, the distribution of hashrate in the US is by no means uniform. 
In 2021 there was only 8.5% of the national hashrate in Texas, surpassed by 9.5% in New York State, but especially 12% in Kentucky and 34 % in Georgia. 
But with the Chinese ban in the US there was a real boom, led precisely by Texas. 
Now Georgia has plummeted from 34% to 9.5%, New York State has dropped to 9%, and in Kentucky only 1% of the national hashrate remains. 
By now this ranking is literally dominated by Texas, with its 28.5%, followed closely by Georgia and New York. 
Texas' record is probably due to the large availability of electricity produced from waste sources, such as flare gas, or otherwise available at very low prices. 
Doing the math, Texas alone is the third largest state in the world by hashrate for Bitcoin mining, with 10% of the world's value, surpassed only by China and Kazakhstan. 
CNBC's analysis
The CNBC article was compiled following an interview with Kevin Zhang, who has been involved in Bitcoin mining for ten years. 
Zhang was born in America but spent his early childhood in CIna. Therefore, he says he used his language skills to become one of the first and largest foreign customers of Chinese ASIC manufacturers. 
He later set up a mining farm in Montana, which became the largest Bitcoin mining facility in North America. 
According to Zhang, next year's halving will be the ultimate test for miners, as in fact overnight their revenues will be cut in half. He states that some may not make it, but others should survive. 
Texas, in addition to having an advantage related to power generation, is also one of the US states with the most cost-effective regulations for miners, along with Wyoming. The latter, however, is a state with relatively few resources, so much so that it holds only 0.4% of the US hashrate. 
CNBC reports that there has been something of a small migration of US miners to Texas, because it is significantly cheaper to mine BTC there.
What's more, not only do local authorities support this activity, but the state energy grid operator, ERCOT, historically struggles with fluctuating energy prices by providing continuity of service, flexible pricing, and incentives for miners to use their machines to dispose of excess energy generated. 
Mining as waste exploitation
Bitcoin mining lends itself very well to the exploitation of energy resources that would otherwise simply be discarded. 
First and foremost is the so-called flare gas, which is the gas that naturally comes out of oil fields and is usually simply burned. 
But above all, it is an excellent way to monetize the excess electricity that is produced, since the grid in order to always provide enough energy for everyone has to make sure that it can distribute at least as much as is required. 
Since it cannot yet be stored on a large scale, the solution is to produce it in excess, and since such excess energy produced would simply go to waste, using it to mine Bitcoin is a bargain. 
It is no coincidence that there are also several publicly traded crypto mining companies in the US, as they can have large amounts of energy at really low prices, some of which comes from waste from processing or distribution processes. 
Monetizing this energy by mining Bitcoin turns out to be a profitable operation, as long as the price of BTC does not collapse.