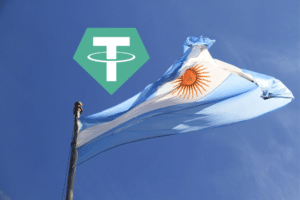 Tether is partnering with KriptonMarket to bring USDT payments to small businesses at the Central Market in Buenos Aires, Argentina, protecting them from Argentine peso inflation. 
Tether (USDT) accepted as payment at the Central Market in Buenos Aires, Argentina
The popular stablecoin Tether (USDT) has announced its partnership with KriptonMarket to become a payment method for small businesses at the Central Market in Buenos Aires, Argentina. 
Thanks to KriptonMarket, up to 900 wholesale merchants and 50 retail merchants in the Central Market of Buenos Aires will be able to accept USDT. 
In addition, through KriptoPayments, they will be able to use the stablecoin to pay their bills, pay a percentage of their employees' salaries and more. 
KriptonMarket is an on/off ramp solution that has been activated to bring Tether itself to the Central Market in Buenos Aires, one of the largest fruit and vegetable movers in Latin America.
In total, Central Market in Buenos Aires employs over 2,000 people in its many wholesale and retail outlets and restaurants. 
It also works with more than 600 farms and large retailers to receive orders for products such as fruit and vegetables, of which 106,000 tonnes are sold each month.
Tether (USDT) as a solution to inflation in Argentina
Inflation in Argentina is at an all-time high of 104%, with businesses and customers seeing a monthly inflation rate of almost 8% for the Argentine Peso. 
In this scenario, small businesses are really struggling to keep up with prices and customers are struggling to save. 
This is why, in a way, the most popular stablecoin, Tether, could be the solution to fight the inflation rate in Argentina and facilitate digital payments between small producers and end users to reduce intermediation costs.
Paolo Ardoino, CTO of Tether, commented:
"We hope that bringing Tether to entrepreneurs and small businesses in Buenos Aires can be an example that can be replicated globally. 
With the continuous devaluation of the national currency, the Argentine people need solutions to pursue their financial freedom. If we can contribute to the well-being of an entire country through the cutting-edge technologies offered by blockchain, we will be one step closer to ending the fight against financial discrimination."
In addition, the collaboration between Tether and KriptonMarket also includes the launch of training courses across the city to inspire a new generation of blockchain enthusiasts and business professionals.
The stablecoin's performance by market capitalisation
Tether is the third largest crypto and the first stablecoin in terms of market capitalization that continues to perform, reaching its all-time high of over $83 billion in April 2022. 
Indeed, the chart shows that Tether's market capitalisation curve has been on a bull run since January 2023, starting at $66 billion and reaching $80 billion in April.  
At the time of writing, USDT's total market cap is $82.8 billion. 
USDT's bullish curve is also due to the "crisis" experienced by other major stablecoins such as USD Coin (USDC) and Binance USD (BUSD), which actually fell between February and March. 
The total market capitalisation of the second stablecoin, USDC, began its bear market in March, falling from $44.22 billion to the current $29.5 billion. BUSD, on the other hand, has been in decline since February, with the market cap falling from $16 billion to the current $5.5 billion. These trends confirm that while Tether's dominance was challenged by USDC and BUSD in 2022, the situation has completely changed in 2023.