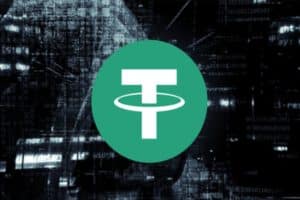 Paolo Ardoino, CEO of Tether, a leading stablecoin project, recently discussed the remarkable growth of USDT and its role as a hedge against inflation, shedding light on crypto resilience and financial strength in such a dynamic market.
Tether: Paolo Ardoino debunks FUD and discusses USDT soaring market cap in the crypto market
Paolo Ardoino, former Chief Technology Officer (CTO) of Tether and now CEO of the leading stablecoin project, recently shed light on the company's massive profits and highlighted the global adoption of USDT as a hedge against inflation.
Speaking to the Wolf of All Streets Podcast, Ardoino outlined the remarkable growth of Tether (USDT) over the past year, even as the broader crypto market has experienced significant volatility. 
As Ardoino pointed out, Tether has created its own capital base, which is carefully managed through holdings in US government bonds and short-term investments. 
In particular, the company still holds $72.6 billion in US Treasuries, a testament to its commitment to stability.
Tether's core mission remains unchanged: to provide a stable currency that's consistently pegged one-to-one to the US dollar. 
Impressively, in the last quarter of 2022, Tether managed to generate a substantial $700 million profit, a clear indicator of its resilience in the face of intense scrutiny and numerous 'black swan' events in the ever-changing web3 landscape.
Ardoino noted that Tether actively cooperates with law enforcement, including the Department of Justice, underscoring its commitment to regulatory compliance. 
Despite its successes, Tether has no plans to go public as it remains firmly focused on its core mission.
Tether's unique financial strength lies in its equity and capital, generated through strategic investments in US government bonds and short-term assets, all managed with rigorous risk management practices.
USDT on the rise, lots of confidence in stablecoin
Ardoino's revelation that Tether's USDT has not only weathered the storm, but actually increased in circulation over the past year, is a testament to the confidence being placed in this stablecoin. 
While other cryptocurrencies and stablecoins have experienced turbulence, USDT currently has a market cap of over $85 billion, cementing its position as the world's third largest cryptocurrency. The recent increase in profitability has led Tether to consider diversification.
The company is strategically positioned to transform itself into a full-service technology provider, addressing vital sectors such as energy, communications and financial infrastructure. 
This marks a significant expansion of Tether's scope as it moves beyond the boundaries of a traditional stablecoin issuer.
The stablecoin landscape 
In the cryptocurrency landscape, stablecoins have emerged as a topic of considerable importance. Brian Brooks, partner at Valor Capital Group and former Acting Comptroller of the Currency, as well as CEO of Binance U.S., noted that demand for stablecoins in developing countries could potentially reignite the relevance of the US dollar on a global scale.
A key development on the regulatory front came on 27 July, when the US House Financial Services Committee introduced a bill to establish a comprehensive federal regulatory framework for stablecoins. 
These digital assets, which are typically pegged to traditional assets such as the US dollar, have attracted increasing attention.
The bill gives the Federal Reserve the authority to set the terms for stablecoin issuance, while preserving state regulatory authority. 
A major revision was made to address concerns that stablecoin issuers might seek to circumvent strict oversight by operating within state regulations.
In the midst of these discussions, the recent conviction of former cryptocurrency tycoon and FTX founder Sam Bankman-Fried, accused of embezzling more than $10 billion from customers and investors, serves as a reminder of the challenges facing the cryptocurrency industry.
Enthusiasm grows for crypto regulation
Despite these alarming incidents, enthusiasm for the implementation of clear regulatory measures remains low.
Over the past year, the US Congress has explored various strategies to regulate the cryptocurrency industry, particularly in the context of significant market downturns and business failures. 
However, progress on these regulatory initiatives has been slow against a backdrop of geopolitical tensions, inflation concerns and the upcoming 2024 elections.
Notably, President Joe Biden issued an executive order calling for government oversight of cryptocurrencies and directed the Federal Reserve to explore the potential creation of a digital currency. 
This initiative highlights the evolving landscape of digital finance and the ongoing search for regulatory clarity.
In conclusion, Paolo Ardoino's insights shed light on Tether's solid financial position and its ongoing commitment to providing a stable currency that maintains a one-to-one peg to the US dollar. 
USDT's growing market cap and foray into broader technology sectors reflect the company's resilience and adaptability in a dynamic ecosystem. 
Furthermore, regulatory developments related to stablecoins underscore the growing importance of these digital assets in the broader financial landscape, signalling the need for a balanced approach to regulation and innovation in the cryptocurrency sector.