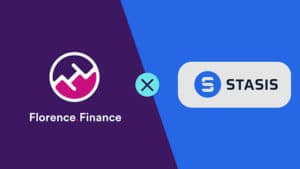 PRESS RELEASE
Malta, 4 April 2023 – Decentralized finance across the EU continues to flourish as Florence Finance integrates the leading euro stablecoin, STASIS-issued EURS, into its newly-launched platform.
Given the latest events in the stablecoin sector, establishing a long-term partnership with projects of the caliber of STASIS, which has been on the market for 5 years, would bring more credibility to the platform.
EURS has quickly become one of the most widely used stablecoins in the European market, and its integration into the platform would provide our users with a much-needed added layer of additional transparency and stability.
The DeFi landscape is rapidly evolving, and it is becoming increasingly crucial for platforms to offer their users a diverse range of stablecoin options. With its unique features, such as enhanced transparency, swiss-grade corporate governance, and multi-chain support, EURS has solidified its status as a trusted and reliable stablecoin for investors looking to mitigate the risks of market volatility.
What is Florence Finance?
Florence is a DeFi platform that allows users to seamlessly integrate real-world (SME) yield into their cryptocurrency portfolio in the most transparent and sustainable way. By tokenizing real-world assets/collateral Florence enables their composability within DeFi.
Florence Finance, through its partners, funds real-world SME loans in the EU. Tokenizing these loans allows users to generate Euro-denominated real-world yield in an efficient, transparent, and composable manner.
Given our Euro-denominated lending activities, the team were keen to integrate a Euro stablecoin "on-ramp" and we have chosen EURS by Stasis for this purpose.
Exchanging EURS for Florin FLR (a native unit of account) is facilitated through a EURS/FLR liquidity pool on Curve.fi
EURS is currently the largest euro-backed digital asset, combining the benefits of the world's second-most traded currency with the transparency, immutability, and efficiency of the blockchain.
EURS is fully backed by Euro held in Stasis' reserve account (1:1 ratio) and it is supported by a robust ecosystem of liquidity providers, exchanges, custodians, and payment platforms, making it easy to integrate into Florence Finance. Through its transparent and regulatory-compliant network of partners, the STASIS platform allows capital to flow freely between off-chain and on-chain digital assets.
EURS is used in many DeFi platforms and has so far been the most successful and widely used Euro-pegged stablecoin. Florence Finance is built on Ethereum and its ERC-20 tokens are fully composable with other DeFi platforms allowing users to generate yield whilst retaining the ability to use their receipt tokens for lending, staking, or collateral purposes on other DeFi platforms.
About STASIS/EURS
STASIS is a European financial technology firm that develops customer-friendly instruments to enable institutional and retail customers to manage digital currencies and public blockchains for payments and settlements, e-commerce, and DeFi.
The company issues, governs and manages EURS, a blue-ribbon asset among euro-backed stablecoins, originated in the heart of the EU fintech sector — Malta. Over time, STASIS has become one of the largest non-USD stablecoin issuers, with EURS reaching a whopping $6B+ of transferred value to date.
EURS Stablecoin
EURS is the only euro-backed stablecoin today that enables multiple distributed ledgers and unique features not present in other assets. EURS has developed an in-house white-label API for crypto-to-fiat settlement in Europe with API infrastructure live on Ethereum, Algorand, Ripple, XDC, and Polygon, with several other blockchains in development.
EURS is audited by the top 5 global audit firm and has accumulated the international community's trust and accountability. Being totally transparent, STASIS makes investors confident that their digital assets are fully backed by the appropriate collateral, such as daily account statements, monthly verifications by BDO Malta, quarterly audits by BDO Malta, and on-demand verification for an onboarded entity.
The STASIS wallet, fully integrated into the Single Euro Payments Area (SEPA), offers regulated financial institutions in both business-to-business and business-to-consumer markets, a new gateway into cryptocurrencies.