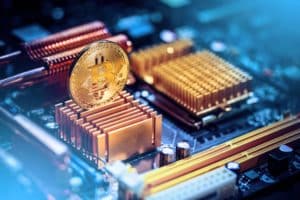 2022 was a bad year for the crypto markets, but certainly not for the hashrate of Bitcoin mining. 
Indeed, the Hashrate Index 2022 Bitcoin Mining Year in Review report states that although 2022 was like a reverse 2021, Bitcoin hashrate grew by 41%, up from +18% in the previous year, "as if to spite the carnage" going on in the markets.
Bitcoin mining: the comparison with 2021
However, it is worth noting both that in 2021 the ban on Bitcoin mining in China had significantly dampened the growth of the hashrate, and that by the end of 2022 this growth had begun to decline. 
Moreover, with the sharp decline in Bitcoin's market value, miners have earned much less on an annual basis, but the $9.55 billion collected in 2022 is still almost double the figures they collected in 2020, or in 2019 and 2018.
It is worth pointing out though, that the latter figures do not take costs into account, so while they grossed more, it is possible that they made less profit instead. 
Hashprice at its lowest
Hashprice measures the daily ratio of BTC price to hashrate. 
The average hashprice in 2022 was $124 per Ph per day, compared to $314 in 2021. Ph stands for PetaHash. 
The maximum hashprice for 2022 was touched on 1 January, at $246, followed by a long descent to $56 per Ph per day touched in November. In fact, the annual low and the all-time record hashprice occurred almost simultaneously in November. 
It is worth noting that with the sharp increase in hashrate over the year, combined with a decline in the price of BTC, while the January 2022 hashprice was in line with that of January 2021, the December 2022 hashprice was four times lower. So the reduction in profits for Bitcoin miners during 2022 was drastic, partly because of rising energy costs. 
It is no coincidence that several mining farms went into difficulty, and some Bitcoin mining companies even went out of business. 
Bitcoin mining in the US
Despite this, the US remains the target market for Bitcoin mining, partly because in many US states this activity is still very viable. In the US in particular, miners have opportunities to reduce the cost of electricity through sophisticated energy strategies. 
For example, they regulate electricity consumption based on signals from the market, because they can turn machines off and on whenever they want. They can also take advantage of time slots when the price of electricity is lower, or abundant hydropower. It is also worth mentioning that some states turn out to be independent in terms of natural gas consumption, which has protected them from the worst electricity price increases. 
The crisis of the miners
However, the crisis of Bitcoin miners in 2022 is evident. 
New-generation plants have declined by 85%, mid-generation plants by 87%, and old-generation plants by 82%. 
Thus, not only have many obsolete plants been shut down or decommissioned, but there has also been a very large reduction in the creation of new, more efficient and therefore lower-cost plants. 
In the end, only those miners that can use very low-cost electricity, or those that can use as little of it as possible, are surviving. 
This inevitably also brings with it a sharp global reduction in electricity consumption due to Bitcoin mining, such that it may take another big bull run to get back to maximum consumption levels. 
It is therefore not surprising that most stocks of publicly traded mining companies lost 90 percent or more during 2022. The worst performer was Core Scientific (CORZ), with -99% due to seemingly insurmountable financial problems that led it to file for bankruptcy
The second worst drop in this respect was the shares of Greenidge Generation (GREE), or a natural gas-fired power plant operator turned Bitcoin miner: the loss was 98% due to huge debts. 
Many of these companies had pre-purchased new mining machines in 2021, often going into debt and thus failing to meet the 2022 drop in profits. 
Bitcoin and altcoins
With Ethereum's move to Proof-of-Stake, ETH mining ended forever in September 2022. So by now, BTC is the only major minable cryptocurrency, because the others like Litecoin and Monero are far less valuable. 
Therefore by now, crypto mining is mainly Bitcoin mining, while altcoin mining is marginal. 
During 2022, Ethereum miners also had problems with low profitability, but they already knew they had to stop at some point. 
In particular, ETH mining still used a lot of graphics cards (GPUs), while Bitcoin mining used mostly, or almost exclusively, ASICs. 
All this led to a sharp drop in demand for graphics cards, with unexpected relief from those who were buying them for other purposes. 
While it is still possible to mine LTC or XMR with graphics cards, the vast majority of graphics cards were being used to mine ETH. It was not enough to move them to mine ETC (Ethereum Classic) or ETHW (Ethereum PoW) for them to remain profitable, because the returns are enormously lower. 
It is enough to mention that the market capitalization of ETH is 15 times larger than the sum of those of LTC, XMR, ETC and ETHW. 
Moreover, that of BTC is still more than twice that of ETH. 
Therefore, the picture is now quite clear, although it is not known how it may evolve in the future.