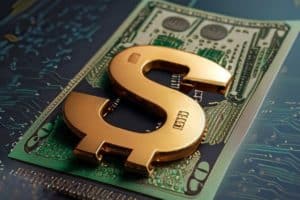 Recently, PayPal, the well-known payment company, revealed that the stablecoin PYUSD has been launched on Venmo. PayPal specified that this stablecoin will be accessible to selected Venmo users, with the goal of making it available to all users "in the coming days." 
Let's see all the details below. 
PayPal revolutionizes payments with PYUSD stablecoin on Vemno 
As anticipated, PayPal announced that Venmo customers can now use their internal stablecoin called PYUSD. 
Initially, this service was made available only to selected Venmo users, but it will soon be extended to all Venmo customers, allowing them to "purchase PYUSD and transfer it to contacts on PayPal, Venmo and external compatible wallets." 
The company stressed that transactions between PayPal and Venmo users are fast and free, except for blockchain network fees. It should be noted that PYUSD is an ERC20 token, which implies that fees are charged based on Ethereum market conditions and blockchain congestion.
For example, according to etherscan.io, the cost to transfer an ERC20 token on September 20, 2023, at 2:00 a.m. (ET) ranged from $2.65 to $2.91 per transaction. 
In its announcement, PayPal also mentioned that PYUSD is now available on several other platforms, including Coinbase, Crypto.com, Bitstamp, Kraken, MetaMask, Ledger, Phantom, Bitpay, and Fireblocks, among others.
In addition, PayPal highlighted that it has obtained approval from the New York State Department of Financial Services. This development follows PYUSD's first transparency disclosure, which revealed support for cash and reverse repurchase agreements from the U.S. Treasury as reserves.
As of Sept. 20, about 44.37 million PYUSD were in circulation, held by 698 separate addresses that have made a total of 3,354 transfers since the currency's introduction. 
In addition, the top 100 holders collectively hold 99.96% of the PYUSD supply, which is equivalent to 44,358,474.05 PYUSD tokens. 
Finally, recall that this decision follows the approval of the company's stablecoin by the New York State Department of Financial Services, which recently updated its list of authorized assets, removing tokens such as XRP and Dogecoin earlier this week.
Enthusiasm and criticism from the Web3 community for PayPal's stablecoin 
Recently, PayPal's decision to enter the stablecoin business has generated considerable interest, accompanied by criticism, within the Web3 community.
In particular, many concerns have been expressed on social media about the centralization of PYUSD, a stablecoin operated by one of the world's largest regulated payment companies. 
Specifically, a tweet from Pashov, a developer with expertise in cryptographic security, highlighted the "assetProtection" feature of the new PayPal USD stablecoin, which could be used to clear the balance in two transactions. 
This was considered a potential "centralization attack vector." 
Still, Juuso Roinevirta, DeFi product consultant, noted that similar to other stablecoins such as USDT and USDC, PYUSD addresses can be paused, blocked, and unblocked.
Ren Yu Kong, on the other hand, an analyst at Blockworks Research, explained that centralization of a stablecoin is a necessary feature to gain approval from U.S. regulators, and these features, such as freezing, are considered a boon to the industry as they increase consumer adoption.
Analyst Sam Martin of Blockworks Research also commented as follows: 
"Many cryptocurrency enthusiasts may view PYUSD's freeze-and-burn features as a step backwards for the industry, but it's important to understand that PayPal's stablecoin does not aim to be more decentralized than USDC, USDT, and others like it."
Also, the use of seemingly older code, as pointed out by Cygaar, has raised some criticism, but according to Kong, this approach might make sense: 
"Preferring battle-tested contracts over new code is a prudent choice, as new code may not have been exposed to rigorous testing in an open environment."
However, ultimately, the decision by PayPal, one of the world's leading payment service providers, to enter the cryptocurrency arena can be seen as a positive sign for the industry, Martin pointed out.