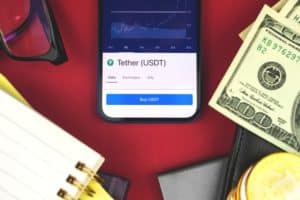 Mass sales of USDT on the major stablecoin liquidity pools on the DEXs Curve and UniSwap were reported yesterday.
The market value of USDT on the exchanges remained at $1 overall, to the extent that on its primary exchange, Bitfinex, it never fell below $1 even for a moment. 
A different matter, however, on the DEXs Curve and UniSwap.
Curve
There are no fiat currencies on DEXs, so it is not possible to compare the market price of USDT expressed directly in USD. 
However, on Curve there is the trading pair between the USDC and USDT stablecoins, and indeed the values have been deviating from parity with the dollar for days, albeit in both directions. 
For example, on 31 July there was a lot of volatility, though always above $0.99, and while it had fallen slightly on 2 August, it resumed being significant yesterday. 
USDT fell as low as 99.76 cents, and was trading slightly below $1 for most of the day. This trend seems to be continuing today. 
The strong selling of USDT on Curve is unbalancing the pools. In fact, these pools are often used on DEXs to trade stablecoin quickly, partly because the tokens are generally in balance. Instead, yesterday's sales created imbalances, indicating a preference of DAI or USDC over USDT. 
It is important not to forget that Curve Finance suffered a hack a few days ago. 
In fact, on 30 July, the price of Curve DAO's CRV token suddenly dropped from $0.7 to $0.6, then also dropped to $0.5 on 1 August. It later recovered slightly to $0.57. 
The volatility of the stablecoin on Curve had started as early as 28 July, then peaked on the 31st. 
Thus the situation is far from stable. 
USDT: Uniswap and the comparison with Curve
By contrast, Uniswap did not experience any technical problems. 
Nevertheless, the volatility of the USDC/USDT trading pair has been on the rise in recent days. 
Truth be told, until 30 July everything was normal, and only on the 31st, that is, the day after the hack on Curve, did it start to rise. 
The peak was between Wednesday and yesterday, although the price of USDT has never fallen below $0.99 anyway. 
It is clear from this trend that this was not a Tether dollar depeg, but caused by volatility within DEXs probably due to a partial repositioning of some traders to other stablecoins, particularly USDC and DAI. 
USDC and DAI
When looking at the movements in the market capitalizations of the major stablecoins over the past week, one notices that both USDC and DAI are down. 
Although DAI from this point of view has surpassed BUSD (Binance USD) to become the third stablecoin with the largest market capitalization, after USDT and USDC, it still fell from $4.54 billion to $4.6. 
However, on 30 July, the day of the hack on Curve, it had risen to $4.58 billion, and the next day to nearly $4.6 billion. Starting on 2 August, however, it dropped a bit, even returning below the levels of 29 July. 
It is worth remembering that DAI is an algorithmic stablecoin, so its market capitalization varies all the time. 
USDC's market capitalization has also dropped in recent days. 
It has dropped from 26.5 billion on 29 July to the current 26 billion, but has not increased in the days of the hack to Curve. 
This data suggests that, overall, crypto markets are not moving toward USDC or DAI.
USDT
A different matter, however, is the issue regarding Tether dollar (USDT). 
Tether recently released its second quarter data, which turned out to be the best ever in its history, thanks in part to very high interest rates in the US. 
In fact, between 29 and 30 July, USDT's capitalization had risen from 83.8 to nearly $83.9 billion, only to fall below 83.8 billion in the days following the Curve hack. 
By the first of August it had risen again to 83.9 billion, only to return yesterday to 83.8. 
As is easily seen from these numbers, these were minimal actions, not particularly significant. 
Although the Curve hack and the massive sales on DEXs had an impact, this was really minimal, almost irrelevant. 
When you add to this the fact that it never lost its peg with the dollar, especially in the primary market, what emerges is that the phenomenon described earlier is all internal to DEXs, and in particular to Curve and Uniswap. 
FDUSD
US dollar-based stablecoins have a new competitor. 
It is called First Digital USD (FDUSD), and it was born only a few days ago. 
The interesting thing about this stablecoin is the support it is receiving from Binance, which is the world's largest crypto exchange. 
According to Tether's CTO Paolo Ardoino it is precisely the entry of this Binance-backed competitor into the market that could be the real reason for the movements of the last few days on stablecoins. 
It is worth mentioning that as of today FDUSD capitalizes only $260 million, which puts it only in twelfth place globally among the most highly capitalized stablecoins. For instance, BUSD, which has been handily withdrawn from the markets for months now, still capitalizes nearly $3.5 billion.