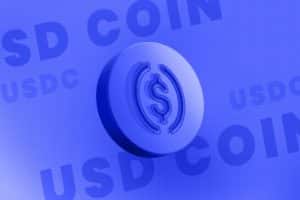 Yesterday Circle announced the arrival of its stablecoin USC Coin (USDC) on Cosmos.
We're excited to bring USDC to @Cosmos! USDC is expected to launch on @noble_xyz soon, stay tuned for details. #IBC https://t.co/eqU8wno43F

— Circle (@circle) March 28, 2023
The launch has not yet taken place, but Circle says it will happen soon.
The Noble network has been chosen for the launch on Cosmos, through which the stablecoin will be made available to all 50+ Cosmos IBC blockchains.
We are excited to announce that Noble is bringing native #USDC to the @Cosmos and boundless Inter-Blockchain Communication (IBC) ecosystem in partnership with @Circle! https://t.co/wLTDW3YNSz

— Noble (@noble_xyz) March 28, 2023
The USD Coin (USDC) stablecoin and Cosmos
Noble is a generic chain that enables asset issuance for the Cosmos ecosystem.
Cosmos, for its part, is a decentralized ecosystem of interconnected apps and services.
Specifically, Cosmos has created IBC, which is an inter-blockchain communication protocol that allows assets and data to be freely exchanged between different blockchains so that they are available to many apps and services.
One of these assets, thanks to Noble, will be USDC.
Right now there are still only about 270 apps and services on Cosmos, with $61 billion in assets under management.
The most interesting of the blockchains in the Cosmos ecosystem is Cronos, which is the blockchain launched some time ago by Crypto.com.
Cronos is not only built on top of Cosmos, but has been made fully compatible with the Ethereum Virtual Machine (EVM), thus becoming the first blockchain to connect Cosmos to Ethereum.
Therefore, thanks to Noble, USDC will also be made available on the Crypto.com blockchain.
It is worth noting that Cronos, with its native cryptocurrency CRO, ranks tenth among the blockchains with the highest TVL in DeFi, surpassing in this respect also Solana, Cardano, Algorand, and Bitcoin.
The other important blockchain in the Cosmos ecosystem in DeFi is Kava.
The relationship between ATOM and CRO
ATOM is the native cryptocurrency of Cosmos.
Yesterday its price in the crypto markets made a sudden jump of 3%, right after the publication of Noble's tweet announcing USDC's upcoming landing on Cosmos.
It is worth mentioning that after an initial period of rise in early 2023, which ended in early February, its price had started to fall, so that by mid-March it had almost lost all of its January gains.
In the second half of March it had tried a rebound, but without succeeding. Now it must be seen whether this news will succeed in bringing it back to the highs of 2023, or whether it will prove to be merely a flash in the pan.
It is worth noting that its current market value is 75% lower than the all-time high of September 2021, although it is almost double the low of June 2022. However, what emerges from analyzing its performance over the long term is that, excluding the speculative bubble of 2021, its performance is not great.
It is enough to consider that it debuted four years ago at a price more than half of what it is now, and in line with the June 2022 lows. In other words, over the long term its performance is far inferior to, for example, ETH.
CRO's price also rose yesterday after the publication of Noble's news.
What is interesting is that over the course of the day it then made two more small rises.
The price trend of CRO in early 2023 is very similar to that of ATOM. The big difference is that the current price of CRO is 93% below the November 2021 highs. It is also in line with the pre-bubble price of December 2020, so during the bear market of 2022 it lost all the gains made during the bull run of 2021.
CRO, like ATOM, also has decidedly unattractive performance over the long run.
The impact of USDC
It is difficult to imagine what impact the introduction of USDC within the Cosmos ecosystem might have on the performance of ATOM and CRO.
Noble's announcement reveals that the ecosystem based on Cosmos IBC has never had a native stablecoin pegged to fiat currencies. Moreover, USDC is also highly liquid and fully collateralized.
Moreover, the issuer of USDC, namely Circle, is a US-regulated fintech, and through this partnership with Noble it will bring USD Coin natively to Cosmos.
Thus for the first time in the history of this ecosystem, over 50 IBC-enabled blockchains will soon be able to use USDC tokens issued natively on Noble, and this could help increase the liquidity and perhaps the TVL of the DeFi protocols in this ecosystem.
Noble states:
"This integration will catalyze hundreds of millions of dollars in liquidity over the coming months in Cosmos, and will seek to rectify the challenges that users and appchains face when interacting with bridged assets sourced from other ecosystems.

In the future, we believe that hundreds of highly liquid, well-adopted Cosmos blockchains will exist. Every blockchain needs a canonical and fungible version of USDC, and Noble exists to fulfill this critical need."
While there are no concrete predictions as to what this might mean for the markets for these blockchains, and their native cryptocurrencies, it is at least conceivable that the apps and services operating on them could rely on increased liquidity.
The problems of the USD Coin (USDC) stablecoin
It is worth noting that USDC's market capitalization continues to decline.
It recently had problems first with the SEC, and then with the failure of Silicon Valley Bank.
These problems have generated some fear of it, so much so that as of 11 March, its market capitalization began to fall.
It had actually been falling since mid-December, but by the second half of February it had begun to rise again.
By mid-December 2022 it capitalized about $45 billion, while by mid-February it had fallen below $41 billion. After an ephemeral climb back up to $44 billion, it began what has all the appearance of a slump, as in less than three weeks it lost 23% of market capitalization, falling to $33.3 billion.
The current level has not been seen since November 2021, not least because in the first half of 2022 USD Coin's market capitalization had even risen to close to $56 billion.
In other words, it has lost 40% of its capitalization in less than a year, even though prior to the start of the last big bull run it was stuck at a level ten times lower than it is today.
The thing is that, while during the first half of 2022 USDC seemed to be the safest stablecoin, with many doubts circulating about the main one (Tether's USDT), in early 2023 the situation seems to have reversed, with USDT on a big rise and USDC retracing strongly.
While they are still priced at $1, we are seeing a real shift of users from USD Coin to Tether.
However, it is worth mentioning that even the current level of USDT's market capitalization ($79.5 billion) is below the all-time high of $83 billion, but by a small margin. It is no coincidence that USDT's dominance (61%) within the stablecoin market is currently at its highest in years.