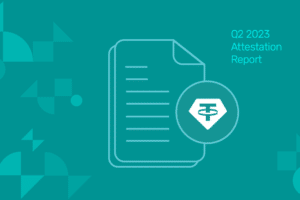 Yesterday, Tether released its USDT stablecoin financial report for the second quarter of 2023. 
Since the Fed raised interest rates to record levels, Tether's investments in US government bonds have started to yield much more than normal. 
Since the important thing for USDT is to sustain reserves, any added gain is for all intents and purposes a profit for the company, even after adjusting for inflation. 
The validity of this report was confirmed by the independent auditor BDO, one of the world's top five independent public accounting firms, which stated that it complies with the actual data. 
Tether reserves for the USDT stablecoin
Thanks to gains during the quarter, Tether was able to increase its excess reserves by as much as $850 million to a total of $3.3 billion. 
Excess reserves are those reserves that are not used to cover the market value of the tokens issued, but are actually a surplus, held out of simple prudence. 
In other words, not only are all tokens put into circulation by Tether covered by standard reserves, but as of 30 June the company also had $3.3 billion in excess reserves to be used possibly for any extraordinary eventuality. 
For instance, in March, when Silicon Valley Bank went bankrupt, Tether's main stablecoin competitor, namely USDC, suddenly lost access to more than $3 billion in reserves, thereby also losing full token coverage and the peg with the dollar. 
Excess reserves can come in handy in cases like this, that is, when part of the reserves collateralizing a stablecoin is lost for whatever reason, even unrelated to the manager. 
In 2018, Tether had a similar problem, when about $800 million was frozen due to the seizure of the assets of another bank at which it held part of the reserves. Those funds were later released, but it took months, during which time USDT was no longer 100% covered. 
The company has long since decided to put its net profits into extra reserves, precisely to build up a sort of treasury to use in case of emergency. 
Tether's earnings
In the period from April 2023 to June 2023 included, Tether reported total operating profits in excess of $1 billion, up 30% from the first quarter of the year. 
Net of profits distributed to shareholders, the company was thus able to put an additional $850 million into extraordinary reserves that are used only for contingencies, bringing total excess reserves to about $3.3 billion, an increase of 34% in a single quarter. 
In contrast, reserves collateralizing all outstanding Tether-issued tokens remain at 100% of the total market value of all tokens. 
It is worth noting that at the beginning of last year, interest rates in the US were just above zero. By August 2022 they had been raised above 2%, and in November they were raised to 4%. Since March 2023 they have even been above 5%, and in July they were raised to 5.5%. 
As of 30 June 2023, it appears that Tether had among its reserves nearly $56 billion in US Treasury Bills, or US government bonds, and nearly nine billion in Overnight Reverse Repurchase Agreements. From these deposits it collects interest income, which has increased over the past few months due in part to the very rise in interest rates. 
Considering that, when aggregated as a whole, the amount of Treasury securities backing Tether's stablecoins is about $72.5 billion, it is more than logical that at such figures and with such high interest rates the company's earnings are plenty.  
Nevertheless, 85% of its investments are held in cash or cash equivalents so that they can be ready to use should they be needed. 
The bottom line
Thanks to all this, as of 30 June 2023, Tether held nearly $86.5 billion in assets, but only $83.2 billion in liabilities, of which 83,178,020,411 were digital tokens issued.
Thus, the consolidated assets of the Tether group exceeded its consolidated liabilities.
Tether's CTO Paolo Ardoino said: 
"I am immensely proud of our most recent reserves attestation, reaffirming our unwavering commitment to transparency. Transparency is not just a buzzword for us; it is the cornerstone of our philosophy.
We believe that open communication and strong financials foster trust and reliability, and this is what the global community deserves especially in a year devastated by many failures across the banking and crypto industry. Our long-term goal has always been to drive innovation as a global player, pushing the boundaries of tech and imagination.
By continuously improving our reserves attestation process, we aim to set new standards in the industry and inspire others to follow suit. As we move forward, we remain dedicated to embracing accountability, enhancing risk management and security, leading by example.
With a firm focus on transparency, we aim to shape a future where every participant in the global financial ecosystem can confidently navigate a realm built on trust and innovation.
That's why in this quarter, Tether's USD₮ token in circulation surpassed its previous all-time high."