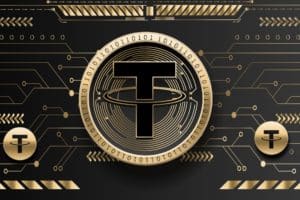 Until not too many months ago it was commonly believed that among the most important stablecoin in existence, Tether was the one with the most problems. 
Over time, however, the story has turned out to be very different. 
Tether: triumph in the stablecoin market
Having emerged unscathed from the problems of 2022, USDT's market capitalization has now not only reached a new all-time high a few weeks ago, reaching $83.3 billion, but has far surpassed that of all its competitors. 
As noted by Tether's own CTO, Paolo Ardoino, USDT's current market capitalization is 3 times that of the closest competing stablecoin (USDC), and 2 times the sum of the market capitalizations of all competing stablecoins.
In fact. compared to Tether's (USDT) $83.3 billion, USD Coin (USDC) only capitalizes just under $27.5 billion, which is almost three times less. 
Since the sum of all USD stablecoin market capitalizations is about 126.3 billion, that of all USDT's direct competitors is 43 billion, or just over half that of Tether. 
In other words, USDT's dominance in this sector, as far as capitalization is concerned, is almost 66%, with the second largest (USDC) having a dominance of less than 22%. 
These are truly triumphant numbers. 
USDT's history
It is worth noting that USDT is also the first stablecoin to be launched, even before Ethereum was born. 
In fact, Tether was born in 2014, while Ethereum in 2015. 
Initially, USDT's market capitalization was very low, and when Ethereum was launched in July 2015, it capitalized only $450,000. 
Tron did not even exist at the time, so USDT tokens were traded on Omni, a Bitcoin sidechain. 
It surpassed $1 billion in market capitalization for the first time in early 2016, and $10 million in early 2017. Thanks to the speculative mega-bubble that year it sprang above $1 billion, and in 2018 it peaked at $2.8 billion. 
In 2019, it returned below $2 billion, but in 2020 it began a new climb that, thanks to the 2021 bubble, took it to over $83 billion in April 2022.
In May, with the implosion of the Terra/Luna ecosystem and especially the UST algorithmic stablecoin, a decline was triggered due to many sales of USDT due to fears of its resilience. 
Capitalization dropped all the way to below $66 billion, but as Tether weathered both this enormous selling pressure and the "bank run" to withdraw USD in exchange for USDT tokens, it returned to growth in late 2022. 
By early 2023 it was back above 67 billion, while between February and March it was also back above 80 billion. 
Starting in April it began to grow a little more slowly, and basically by the end of May it ended this upward trajectory of growth that took it to new all-time highs. 
Competitors
Despite this, it has now been fifteen consecutive months that the overall market capitalization of stablecoins has been declining. 
So while USDT has grown a lot in recent months, others have fallen quite a bit. 
Although this decline began fifteen months ago, it had its own surge in May last year, which is when UST suddenly lost virtually all of its market capitalization, ceasing to be a stablecoin and becoming a purely speculative shitcoin. 
USDC has been declining since July last year, as it capitalized 56 billion at the time and is now down to 27.5.
The one that has had the most trouble in 2023 is BUSD (Binance USD), which collapsed from $22 billion to $4 billion after it was abandoned. 
The others all have capitalization of less than $3 billion. 
In light of this, the triumph of USDT seems even more evident, and now it will be necessary to see how this situation will evolve, especially in case a new bull run ignites sooner or later.