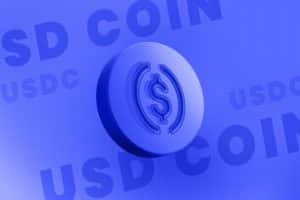 Yesterday, Circle announced that it planned to release version v2.2 for USD Coin (USDC) and Euro coin (EURC) with the intention of improving certain aspects of these stablecoins.
The main benefit of the update concerns the reduction of transaction fees by about 7%.
Then there are other factors that make Circle stablecoins more attractive such as increased security in EVM networks and advances in cryptographic resource efficiency.
The new version will be completed automatically from now until January 2024 and requires no community intervention.
All this could help USD coin (USDC) take back a slice of the market share lost throughout 2023 to competitor USDT.
See all the details below.
Circle and version 2.2 improving certain aspects of USD coin (USDC) and EURO coin (EURC) stablecoins
Circle, the world's second-largest stablecoin issuer after Tether, announced the launch of the v2.2 update that will make USD coin (USDC) and EURO coin (EURC) more attractive in the crypto market.
The new version, as a plan of the USDC resource expansion process, includes 6 key changes of which the most interesting one concerns signature validation directly from smart contract wallets using EIP-1271.
Other enhancements include reduced gas cost, better support for cryptographic account abstraction, and a more consistent security measure for all transactions conducted on EVM networks.
Circle itself on its blog disclosed all these upcoming implementations:
"There will be six new changes to USDC and EURC smart contracts and they will be implemented through a single v2.2 update for each supported EVM blockchain."
Going into more detail, we can see how v2-2 is reportedly expected to reduce costs for stablecoin transactions by 6-7% in the instances of transfers, payments or exchanges.
Users will also be able to choose to pay the gas rates of the network on which they are operating, directly in USD coin or EURO coin.
The gas savings come from optimizing the blocklist control process in the smart contracts of the two stablecoins controlled by Circle.
The user experience will actually be improved through a feature that allows crypto to be transferred from smart contract wallet to other entities with private keys, refining support for account abstraction.
Among other things, the security concept will also be greatly enhanced as the update includes measures to counter dangers from EVM blockchain forks. 
Users will be protected from malicious use of their funds on unofficial forks.
In all of this, security firm Halborn has taken a crucial role by having audited all code changes to ensure that nothing can go wrong.
The update will begin shortly on the Avalanche Fuji testnet and then expand to other networks in the mainnet through a phased process.
Ethereum's mainnet, i.e., the most important one in this context because it encapsulates most of the USD coin supply, will be upgraded in January 2024.
The state of the USDC market
As mentioned, the new v 2.2 version announced by Circle is part of a process to expand the USD coin (USDC) and EURO coin (EURC) stablecoins.
In particular, the euro-weighted digital asset is still far from competing with its competitors EURT and EURS, which together are worth more than 10 times Circle's stablecoin.
On the other hand, with regard to the USD coin (USDC) diamond product, during 2023 we witnessed a sharp decrease in supply (and in parallel capitalization) in favor of the growth of USDT, a cryptocurrency pegged to the US dollar managed by Tether.
Specifically, since 1 January 2023 USDC has lost $21.7 billion while USDT has gained $16.4 billion.
Circle will use the upgrade as a measure to counter the increasingly strong advance of Tether's cryptocurrency, which recently hit an all-time high in terms of capitalization.
The loss of USD coin power can be seen more closely by looking at the following chart that compares the number of addresses holding balances above USDC 1,000, 10,000, 100,000, 1,000,000 and 10,000,000.
In all cases since the beginning of the year there have been declines in the number of holders, sometimes by more than 50%.
In detail, compared to January 1 there are 68,000 fewer addresses holding balances over $1,000, 36,000 fewer addresses with balances over $10,000, and 11,500 fewer addresses with balances over $100,000.
Even in the cases of the richest, the trend remains unchanged: about 2,000 addresses with a budget over $1 million in USD coin have evaporated as well as another 185 addresses that had more than $10 million.
Although the loss of supply to USDC could be attributable to volatile asset purchases by previous holders and hence not comparable to a true capital flight, it is undeniable that Tether's advance must be addressed in some way.
Circle aims to give more strength to its assets, which, unlike USDT and EURT, are more used in the DeFi field and thus require more attention on the fields of efficiency and cybersecurity.
In addition we should mention that Circle itself, backed by financial giants such as Goldman Sachs and BlackRock, is considering a stock market listing next year through an IPO.
Its corporate valuation is about $9 billion.