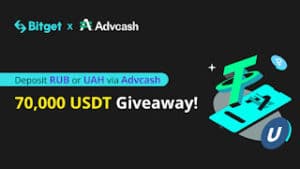 Bitget, the leading platform for crypto derivatives and copy trading, is excited to announce its partnership with Advcash, a renowned payment platform, to introduce an innovative fiat currency gateway service. Below are all the details. 
Bitget revolutionizes trading experience with new fiat currency gateway
As anticipated, Bitget recently announced its partnership with Advcash, a renowned payment platform, to introduce an innovative fiat currency gateway service. 
Specifically, this strategic partnership allows Bitget users to conveniently deposit Russian rubles (RUB) and Ukrainian hryvnie (UAH) through Advcash, facilitating frictionless cryptocurrency trading.
Responding to the growing demand for fiat links in the cryptocurrency industry, Bitget is committed to providing users with secure and efficient options for managing funds. By joining forces with Advcash, a reliable fiat gateway, Bitget offers users a seamless experience for deposits and withdrawals.
Through this integration, Bitget users can easily deposit RUB or UAH directly into their Bitget accounts, accelerating their involvement in cryptocurrency trading. 
By eliminating the need for multiple transfers between different platforms, this collaboration aims to improve convenience and usability, enabling Bitget users to capitalize on the rapidly expanding cryptocurrency markets.
Gracy Chen, CEO of Bitget, had the following to say on the matter: 
"Bitget is committed to providing our users with a simple and intuitive trading experience. Partnering with Advcash allows us to expand our fiat gateway services and offer our users a convenient way to deposit funds directly into their Bitget accounts. This collaboration is in line with our improvement mission accessibility and drives the adoption of cryptocurrencies."
Bitget and Advcash: the rewards of the new partnership
To celebrate this important partnership, Bitget will offer its users an extraordinary opportunity to earn substantial rewards. 
Indeed, users who make deposits in RUB or UAH through Advcash and actively participate in trading activities on Bitget will have the chance to qualify for a giveaway program worth 70,000 USDT. 
This initiative not only underscores Bitget's commitment to valuing its users, but also highlights the platform's dedication to providing value-added services.
Bitget remains committed to continuous innovation and platform improvement to meet the changing needs of cryptocurrency enthusiasts. 
The partnership with Advcash represents another effort to extend Bitget's fiat gateway services and improve the overall trading experience for its users. 
Through this alliance, Bitget aims to consolidate its position in the market and reaffirm its strong commitment to customer satisfaction.
Earlier this month, Bitget also launched an artificial intelligence-based feature for its Grid Trading and Martingale Strategies AI. 
The company is furthermore actively incorporating artificial intelligence technology, along with other product advancements, to help traders develop more robust strategies and maximize returns safely.
Bitget's research on the trading preferences of crypto users in Europe 
Recent research conducted by Bitget has provided interesting insights into the profile and trading preferences of cryptocurrency users in Europe.
The results, obtained by analyzing 2,500 participants from Germany, France, Spain, Italy and the Netherlands, not only confirm previous research but also offer an in-depth perspective on the evolving cryptocurrency trading landscape.
The analysis reveals that the typical cryptocurrency user in Europe falls in the 30-40 age group and is predominantly male. In addition, about 53% of participants are in the 30-40 age group, while 32% are under 30 years old. 
These results are in line with global trends, which show that millennials make up the majority of cryptocurrency holders. Also interesting is the fact that males dominate the European crypto space, accounting for 93% of users, exceeding the global average. 
The Netherlands stands out with 11% female traders, indicating the potential for greater female involvement.
The research highlights that a significant majority of European traders are relatively new to the cryptocurrency market, with 53% having less than one year of experience, while 41% have between two and five years of experience. 
This pattern highlights the growing interest in and adoption of cryptocurrencies in recent years, with many traders viewing cryptocurrency trading as a hobby to generate additional income.
One noteworthy finding is that 50% of respondents prefer futures trading, despite the fact that it is considered more suitable for experienced traders. This choice reflects the enthusiasm and willingness of European traders to explore advanced trading tools. 
By contrast, the French show a predominant preference for spot trading, with 55% preferring it over futures trading (36%).